Wow, double figures already, not bad!
It's been a really busy week again, which has meant that not much knitting has been done. I didn't do much at all at the start of the week, but this weekend I've been working on my latest pair of socks, in between cleaning the entire house. It's amazing how much more relaxed I feel now that it's all clean and tidy!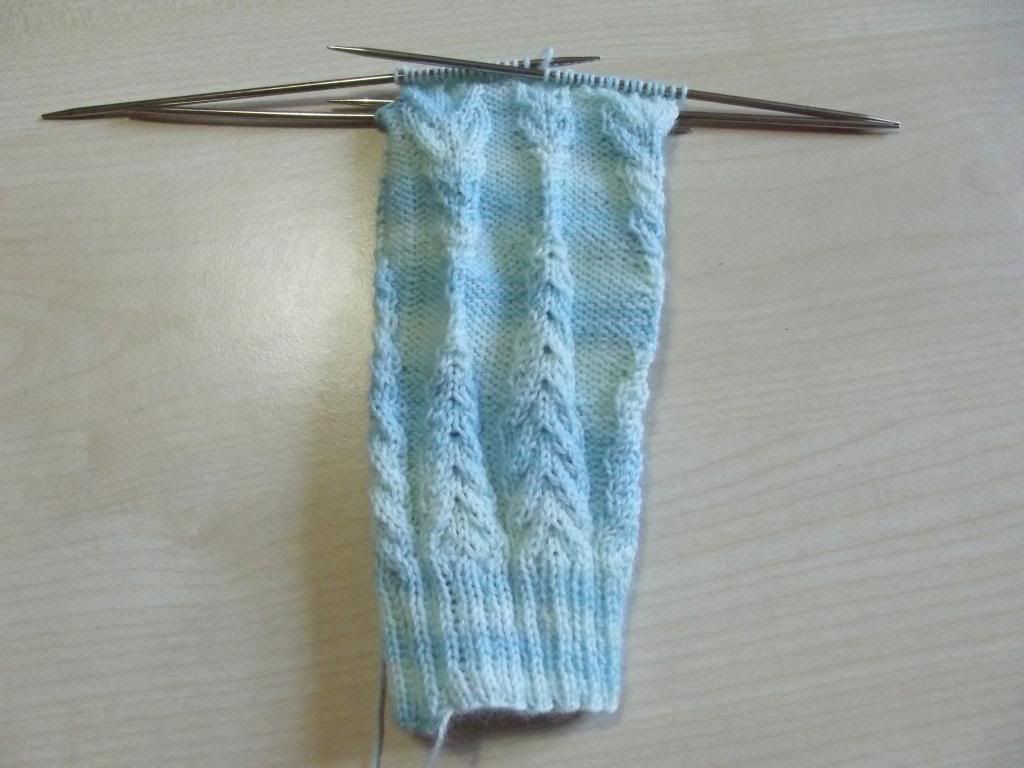 The pattern is
Speleology
from Knitcircus, an e-magazine which I won in a giveaway last year. I'm using
Woolhunter Working Sock
, in the colourway Ice Maiden and I'm loving the way that the two colours spiral round the sock. I am a bit concerned, because the pattern said to use 2mm needles, and I decided to knit size small with 2.5mm. This meant casting on 66 stitches, which is perfect for me, but I didn't realise that the stitch count increased after the ribbing up to 72. I'm hoping they won't be too big, but if they are, I'm sure I can find a home for them with my best friend! I'm using this pattern to learn to cable without a cable needle, so the cables aren't always perfectly neat, but my gauge is improving as I go, and hopefully they'll all even out in blocking.
Since I finished cleaning up, I also started to work with my fleece. I've split it into 10 bags by area of sheep and coarseness, and I'm starting to wash it. I can only do this because Connor is away visiting his parents, as sheep fleece is really bad for his asthma. Each bag weighs between 65 and 100g, so hopefully it is well separated and I won't need to do much moving around of fibre before carding.
In case you're wondering, Connor is feeling much better, though he still has some memory loss, and has tests later this week to figure out what the cause was, fingers crossed it all goes ok!
I've been on call for trauma this week, so I've seen lots of fractures and complex injuries. I seem to have done a lot of holding of limbs, though I was complimented on my stitching in theatre on Thursday! I think it's all the fibre crafts I do, it's very good for hand eye coordination and detail work.