So I know I have been away for a very long time, life got really busy and I have been on a placement that involves staying away from home during the week, and I've only just got myself settled in really.
This is going to be a picture heavy post, because even though I've not been at home, the knitting hasn't stopped, it's just getting moved about. I've been working on my Shetland fleece, it's all been washed, and I've carded a good chunk, as well as spinning up and knitting a few samples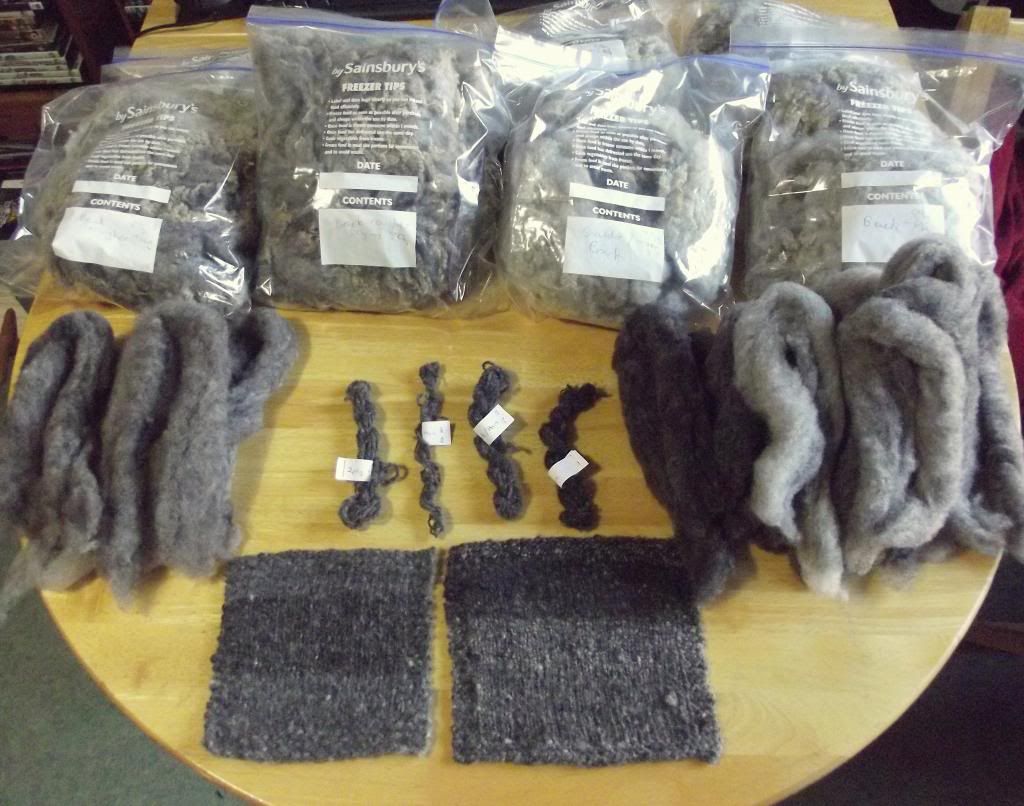 I was playing around with both 2ply and 3ply of different single thickness, and knitting them up to see the finished product, and I have to say, I wasn't expecting the striping that I got. It must be because each of the rollags I originally carded had a different combination of colours in it, so after knitting these, I decided to split the wool by colour as well as softness to get a more even coloured yarn, because I'm not a big fan of the stripes.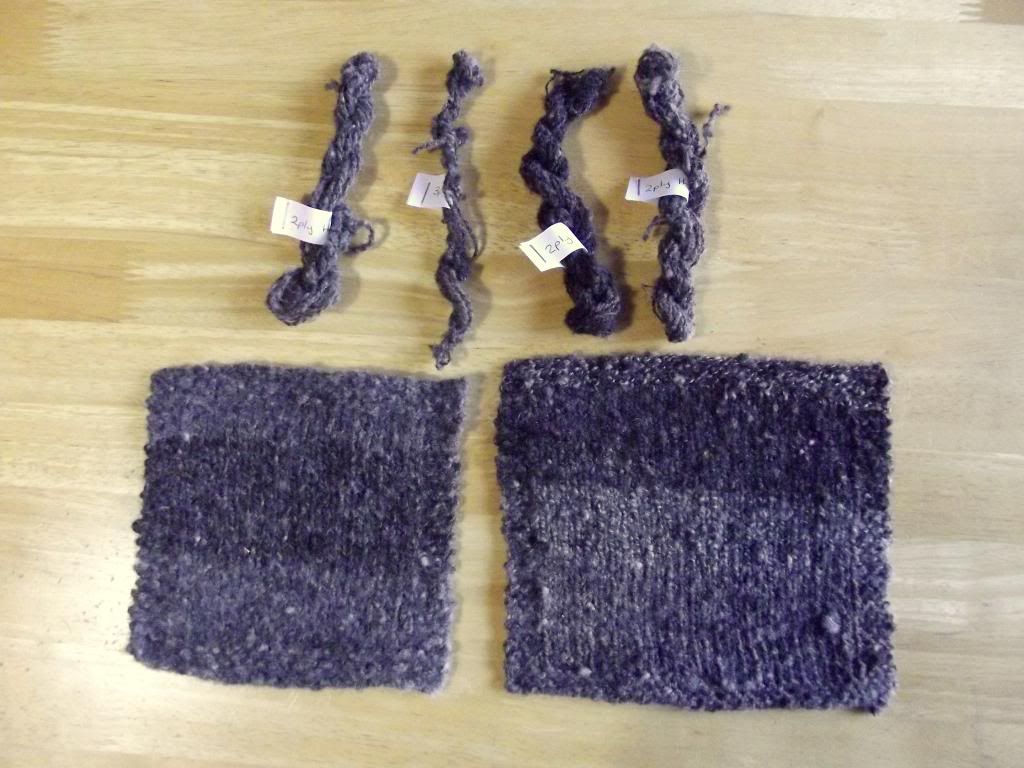 I've also been working on my crochet skills, and made another couple of characters from the book
Creepy Cute Crochet
as a gift for my friend. I'm getting a bit better at reading my crochet now, and I also learnt a few new skills like crocheting through the back loop, and crocheting on a tiny hook with embroidery thread. They're still not perfect by any means, the girl's head is bigger than the guy's, even though they're from the same pattern, and her headband looks nothing like the one in the pattern! Also, my embroidery leaves something to be desired, as I could not get the girls face to look right.
And onto WIPs. The Blue Beekeeper's Quilt is going well. Puffs are the perfect portable project for when I'm away, so I've been making quite a few, and I'm now up to 70 puffs. There are a few colours that don't seem to fit, and I'm not sure if they'll make it into the finished blanket, but we will see... I might overdye some of them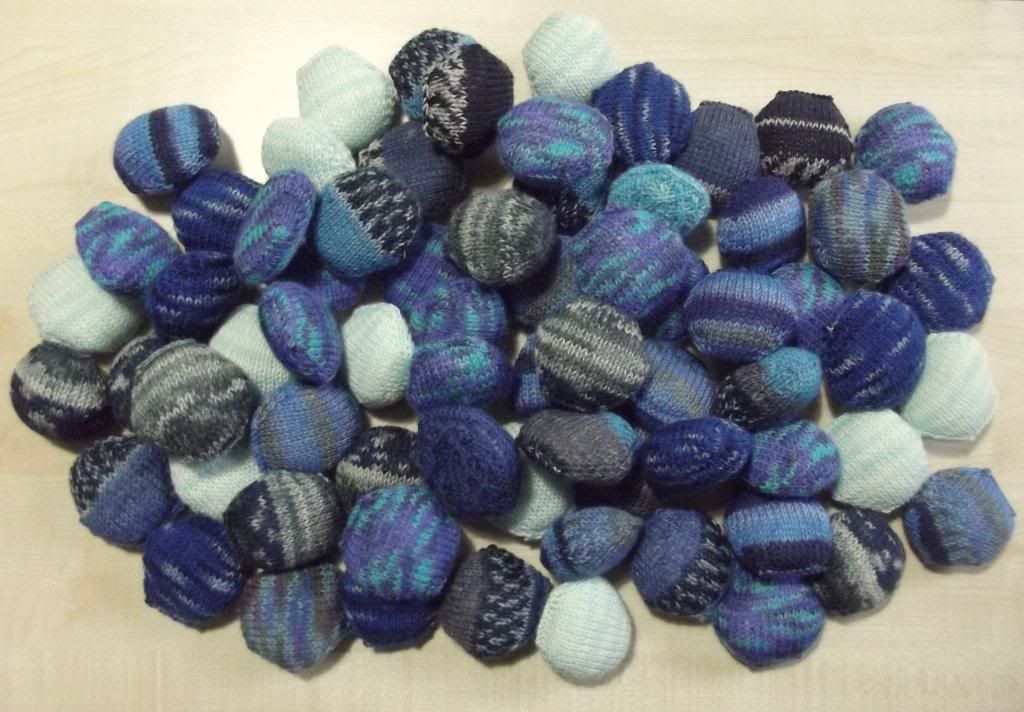 And talking of overdying, I have been playing with stripping colour out of yarn to then overdye. I had a load of black yarn from a job lot on ebay, which I was pretty sure I would never use, and some pre-dye dye remover, so I decided to give it a go. I ended up only using about half of this yarn, because I had to use the dye remover twice to get any result at all. And boy did it smell bad!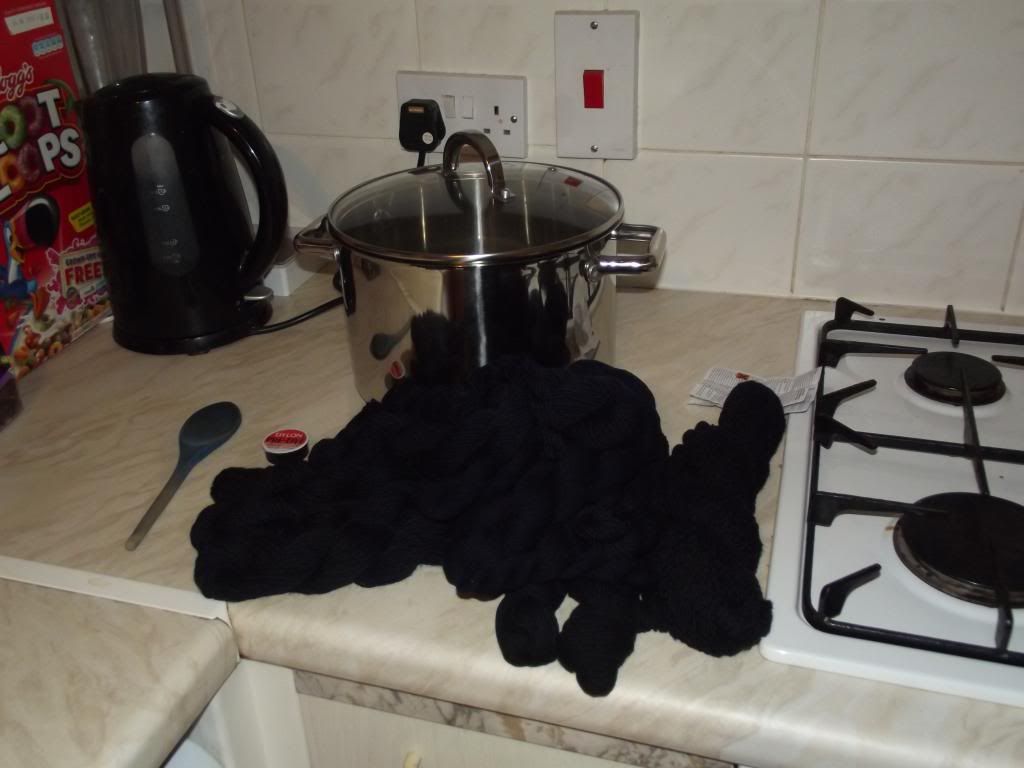 Out of 5 skeins (between 30 and 50g each), I only managed to strip any dye out of one. And it came out a tangled mess, because you constantly have to stir the yarn .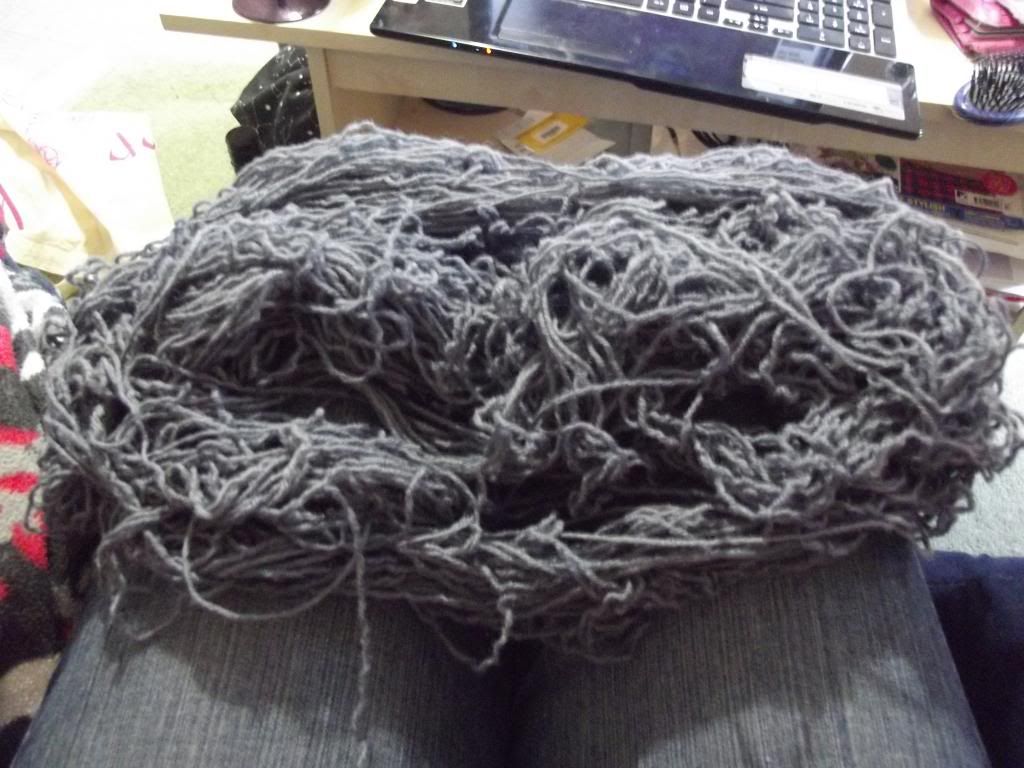 But after detangling, it looks like it is overdyable. I have to say though, it's made the yarn feel a a bit brittle, and I can't say it was a perfect success. Nothing ventured, nothing gained though I probably won't do this again.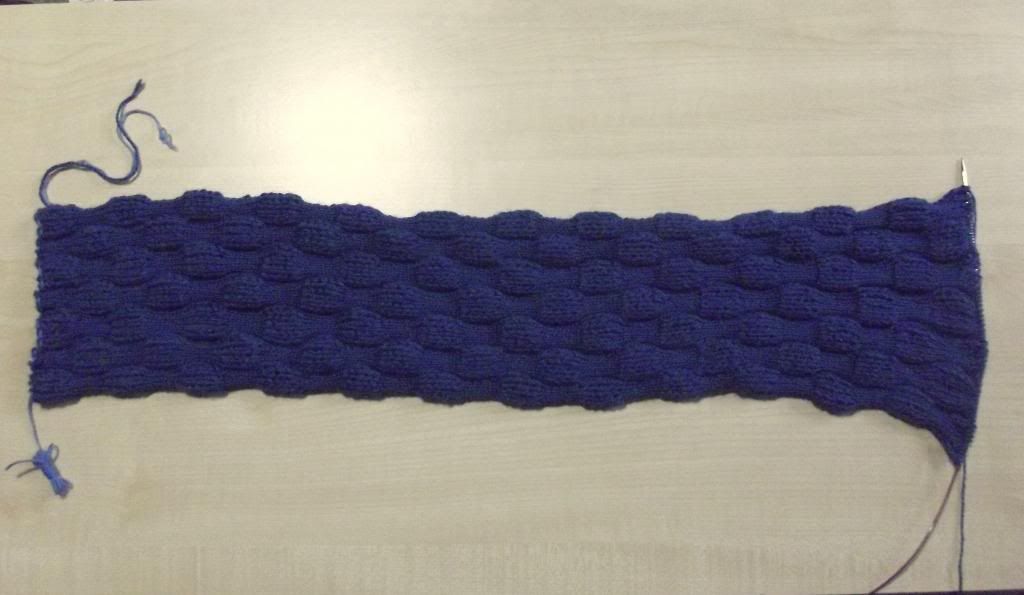 I have had a few problems with startitis as well recently. I've been wanting to design this cowl for a while, and I recently blocked some shawls for a lady on Ravelry, and she sent me this yarn in return, and let me say, the picture really does not do it justice. It's
Fyberspates Scrumptious 4ply
, and I am in love with this yarn. It's a much more turquoise colour, and it has a beautiful sheen and drap because of the silk content, and it's so soft!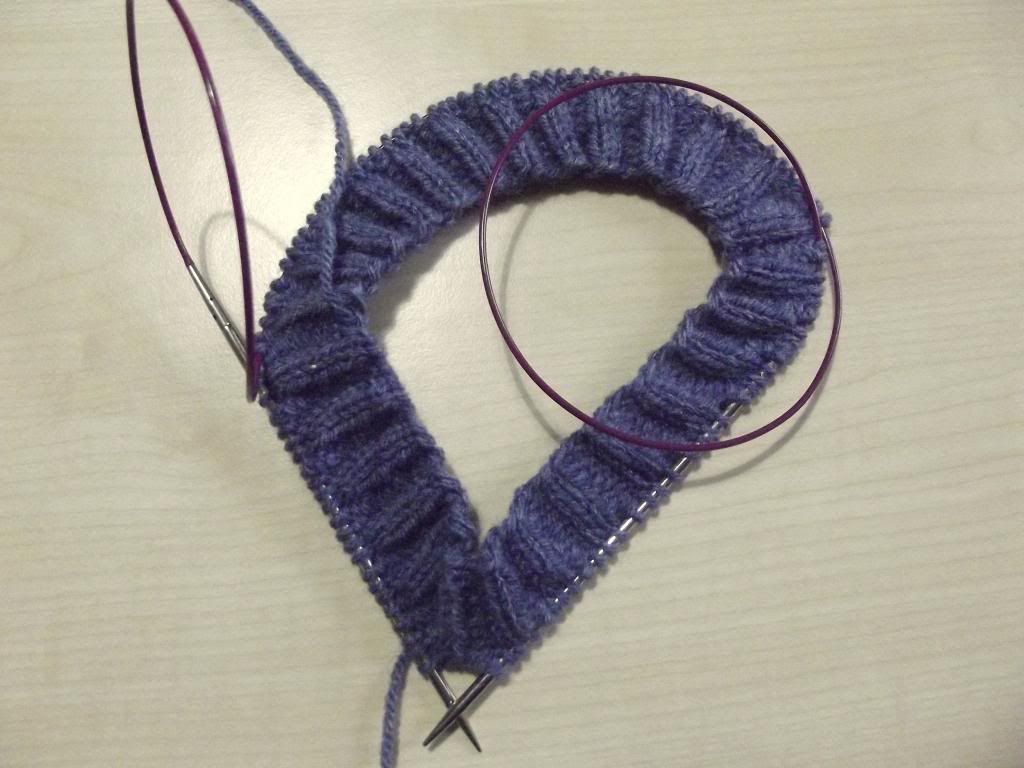 I've also started a minion hat, as a silly gift for a friend's birthday. Another friend is making her a minion cake, so I thought that this would go along with that perfectly.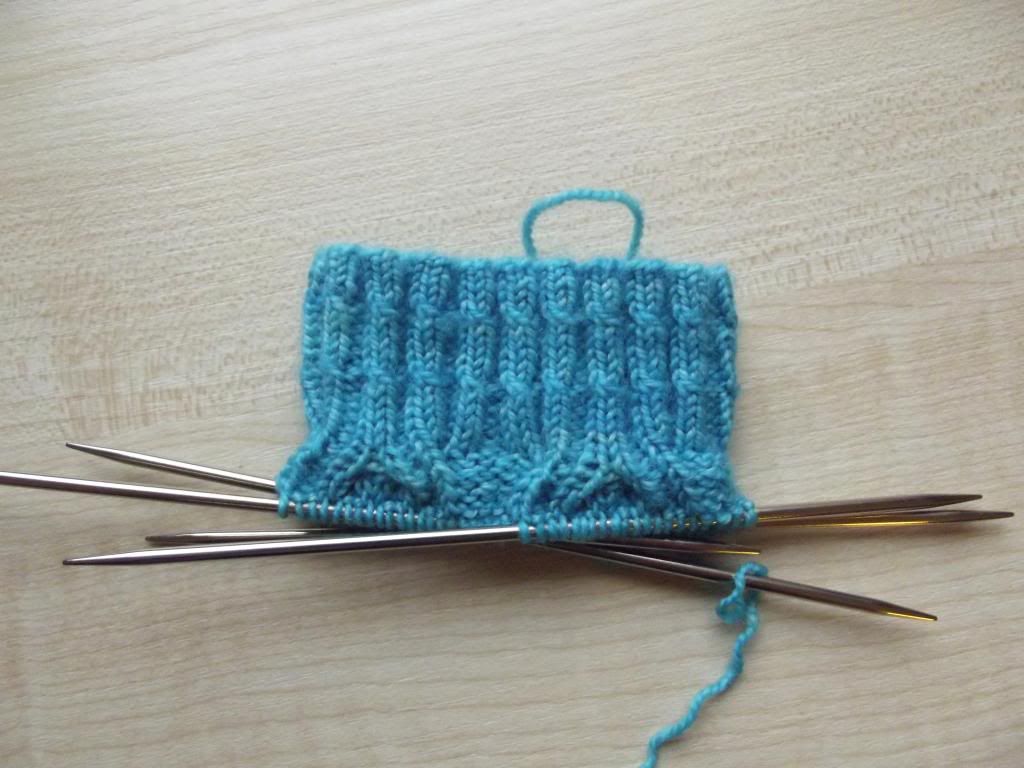 And finally, these are the socks I was working on last time I posted. After turning the heel, I realised they were much too small, and so I had to frog back to the cuff, and start again on bigger needles. They're in time out for a bit, as I can't really face reknitting them at the moment.
So there you have it, a whistle-stop tour of my last month of crafting!